"Mom, you're wearing your blame face," my daughter said.
As soon as she said it, I knew it was true. I'd come up the stairs to my daughters' room to find out what all the arguing was about, the thunderous expression on my face mirroring the clouds and rain that threatened outdoors on this early fall day.
The observation was just silly enough to break the tension, and as the girls and I took turns emulating the "blame face," laughter ensued.
It's not always that easy to shift the mood. As a mom, I know how much my children take their cues from me. If my own feelings are in turmoil, it's hard to model the kindness I want our family to cultivate.
If you've ever felt stuck in a rut—as I felt that stormy day—here are some ideas on how to shift from grumpy to grateful.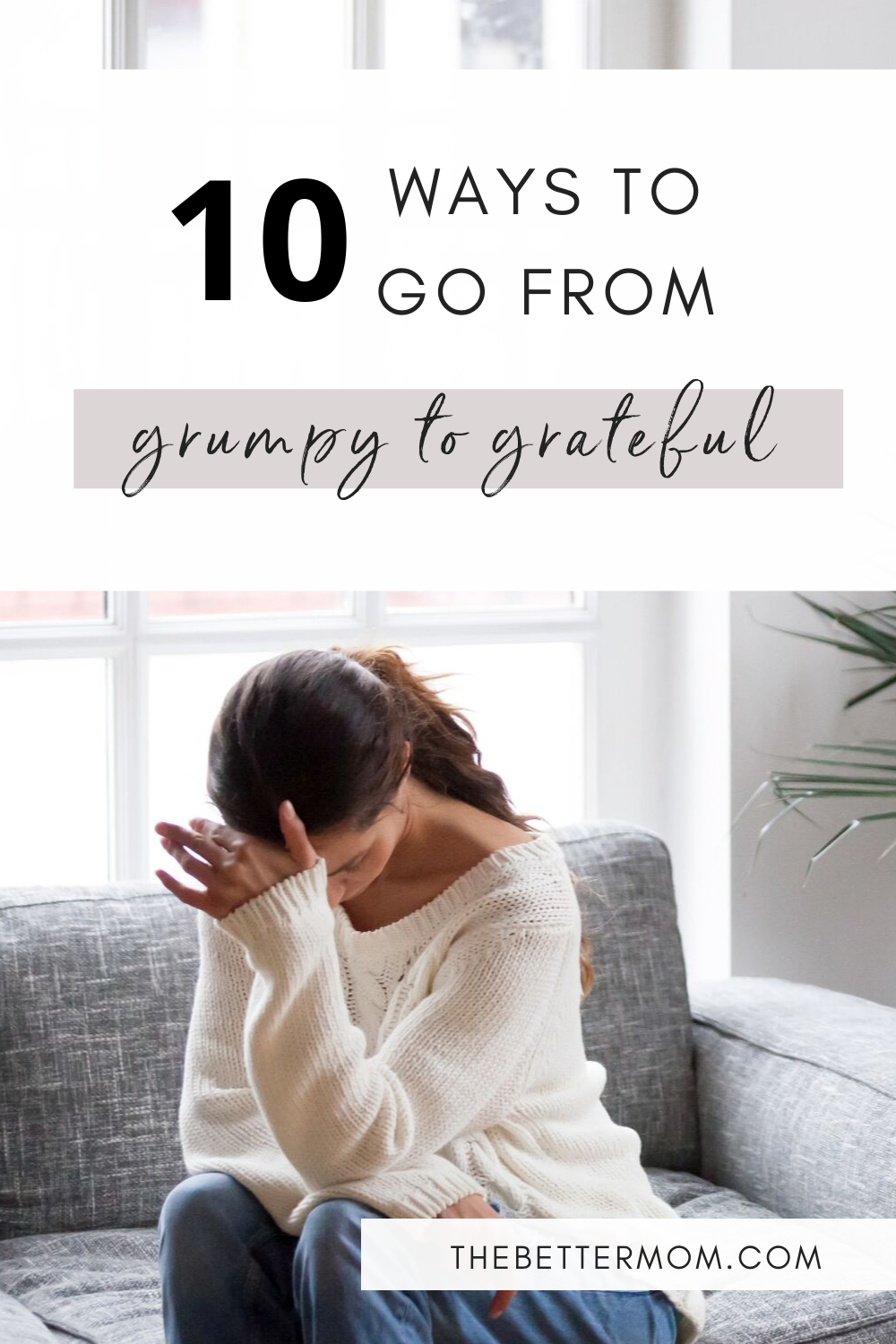 1. Start with a dose of self-kindness. Step away from your life for a moment and find a quiet place to take deep breaths or offer a quick prayer.
2. Take a different route to work, school, or running errands. Notice the details of what's around you. If someone is with you, use the time to have a conversation about what you notice and appreciate. If you're alone, spend the time listening to a podcast or uplifting music.
3. List five people or things you're grateful for and say them aloud. Bonus: Send one of the people on your list a quick message to tell them you're grateful for them.
4. Pick up donuts, coffee, or another treat—one for you, and one to share with someone else.
5. Look at the person in front of you—whether it's a child, a coworker, a neighbor, or a checkout cashier—and give them a genuine compliment.
6. Provide a listening ear for someone. When you feel grumpy, sometimes simply listening is more effective than saying less-than-helpful words.
7. Write out a quick thank you to a teacher via email, a friend via text, or even a Post-It for your mail carrier. Praise someone for a job well done.
8. Volunteer. My mood and perspective always shift to gratitude when I help make a meal at our local homeless shelter or volunteer in the nursery at church.
9. Read Luke 10:25-37 to see how Jesus approached relationships with others. Thank Jesus for the kindness he's shown us.
10. Give yourself grace. Try again tomorrow.
"I choose kindness . . . I will be kind to the poor, for they are alone. Kind to the rich, for they are afraid. And kind to the unkind, for such is how God has treated me." Max Lucado
For more ideas on how to shift your perspective and add more kindness into your life, check out Kristin's new book, 100 Days of Kindness. You can find more information and encouragement on her website.
Powered by WPeMatico