Have you ever noticed that when your faith feels weak, everything feels more overwhelming? The small stuff that goes wrong feels like the end of the world.
Even, I don't know, your toddler dropping a glass jar of minced garlic, leaving an impossibly large radius of tiny shards of glass and potent garlic juice on the kitchen floor. It sounds silly, but while broken garlic jars may not exactly be a tactic of the enemy, it can add to our spiritual and mental distress if our faith is faltering.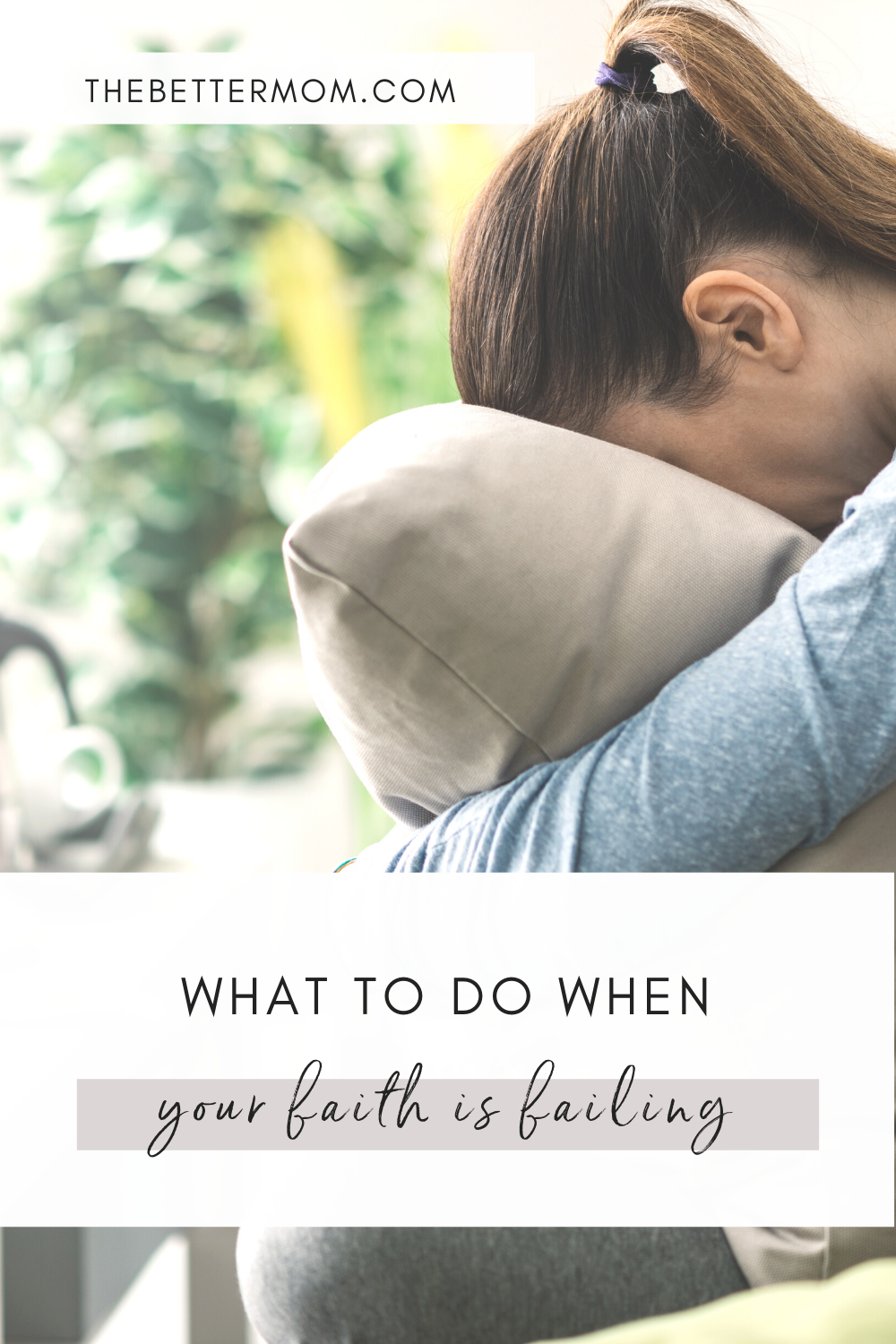 We feel more overwhelmed when our faith is weak because there's nothing to shield us from the spiritual attacks of the enemy.
Afterall, we are engaged in spiritual warfare. The enemy is very real and does not want us to live the victorious life Jesus died to give us. And when we allow ourselves to be consumed by problems, we push God to the periphery until we no longer see Him. The result? Our faith feels weak.
But this isn't the faith of the Bible.
Ephesians 6 talks about the armor of God which includes the shield of faith:
"Above all, lift up the shield of faith with which you can extinguish all the flaming arrows of the evil one."
What do we do, though, if our faith is failing us?
How can a fragile shield of faith hold up against the very real attacks of the enemy?
Friend, it doesn't have to.
When your shield of faith feels feeble, find one that isn't. Find someone with a like-minded faith and stand behind their shield until you feel strong enough to grasp the handle on your own.
I recently let a problem steal my focus for far too long, leaving me feeling spiritually weak. The Holy Spirit prompted me to reach out to my Grandma. She can speak God's truth into my heart and mind. Her words are fervent, passionate, and genuine, so they are felt fervently, passionately and genuinely in my heart and mind. It's like her faith becomes a bridge, creating a solid pathway for me to place one foot in front of the other until I make my way back to my own solid foundation of faith.
While I do believe that we should always turn to God first with our problems, sometimes, when my faith feels weak, I can be reading and speaking God's word but I don't feel it as truth. My fleshly emotions eclipse God's words. We can KNOW that our feelings aren't true and still struggle to believe God's word.
At times like these, we need to turn to the people of strong faith that God has placed in our lives.
God created a beautiful support system for us, and we must take advantage of it. The Bible tells us in Galatians 6:2 that we should carry each other's burdens. We were created to be social and community beings.
God didn't create us to suffer in isolation but to offer comfort to others when they need it and be comforted by others when we need it! (2 Corinthians 1:4) Praise God for creating a provision of comfort and community for us in a fallen world!
If your faith is failing, it's time to utilize this provision. Look for the person in your life whose faith you admire. Let their faith bring life to your own. Your strength will return. And when it does, pick up your shield of faith with gusto, hold it high, and prepare for victory.
From faith to faith,
Kelley Thigpen
Powered by WPeMatico