Last year I shared my top 10 meaningful gifts for families and once again, I am compiling a list to share with you! I canNOT believe that Christmas time is right around the corner! Can you?! With all the hustle and bustle this season brings, I am always on the hunt for meaningful gifts to give my children and family.
For my children, it has become a tradition over the years to give each child one gift, in particular, to spur them on and encourage them in their faith, which can be a Bible, journal, devotional, etc. I also get one gift for the whole family, such as an advent book, family devotional, game, etc.
For other family members, I really try to make at least one gift meaningful. There is something so special when the loved ones in our lives can see the sentiment behind the gifts we give them. Those will be the gifts they remember. Below are some of the most meaningful gifts you can give your family this Christmas.
Seriously, this beautiful mango bookstand from The Gracecrafted Home is the perfect addition to any home. I love having the Word of God open and visible in our homes at all times.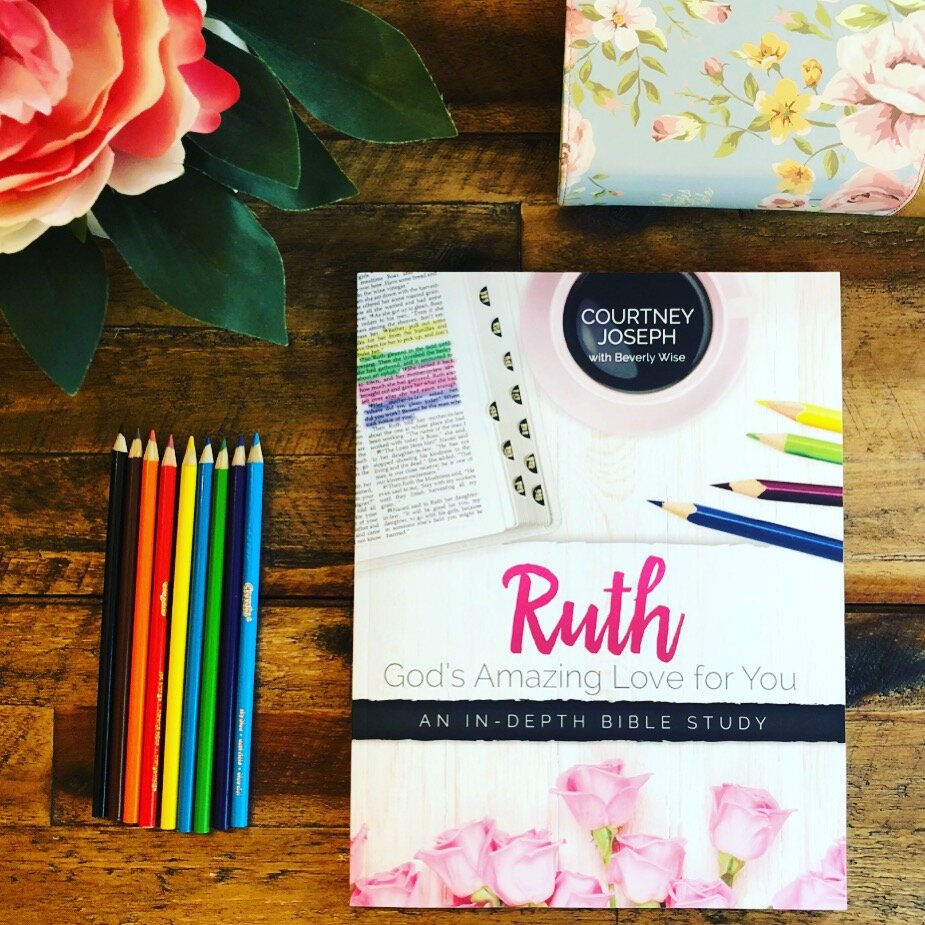 Ruth: God's Amazing Love for You
The story of Ruth and Boaz is one of the most beautiful examples of God's love and sovereignty recorded in the Bible. Woven throughout this beautiful love story is a greater story of God's amazing love for us.  If you have faced loss and wonder if God really loves you or if God is involved in the details of your life, then this study is for you. Ruth's courage in the face of adversity will inspire you to trust God with your future and it will fill you to the brim with hope, as you see an imperfect family be used mightily by God!
This in-depth Bible Study will take you verse by verse and chapter by chapter, through the book of Ruth.  It includes application questions and discussion questions so you can do this alone or with a group.  You can find all of the free bonus videos and resources for this study over at www.WomenLivingWell.org
Ruth: God's Amazing Love For You: An In-depth Bible Study
Faith Forward Family Devotional
You've passed down to your kids your last name, your love, and maybe your sense of humor or favorite hobbies. But have you passed down the most important thing: your faith? I am so excited to share a new devotional for families that will inspire you to raise another generation to love and serve Jesus as you lead your family through the Bible.
In Faith Forward Family Devotional, my hubby Patrick and I help you pass on your faith with 100 devotions you can do at your own pace as a family. Whatever season of parenting you are in, sharing this devotional time together will help your children nourish a faith that lasts a lifetime. You can grab your copy HERE or below.
Faith Forward Family Devotional: 100 Devotions
By Patrick Schwenk, Ruth Schwenk

What Matters Most
The world has always been full of trials, disappointments, temptations, fractured friendships, and financial hardships. Yet Paul's letter to the Philippians claims we can discover contentment and joy in the midst of it all by prioritizing what matters most—Christ.
Over 7 sessions, my good friend Karen Ehman helps you study the ever-relevant Letter of Philippians to deepen your relationship with Jesus, turn your worries into worship, and develop gospel-centered tools for navigating relational conflict and thriving in Christian love. Grab your copy below!
What Matters Most – Bible Study Book: A Study of Philippians
I absolutely love this courage sweatshirt from Ramble & Company. I recently purchased it and it is a great fit. This would be a perfect gift for the friend who could use the reminder to have courage no matter what they face. I know it is just what I needed!
Hosanna Revival Journaling Bible Okay, EVERYTHING from Hosanna Revival is beautiful! If you are looking for a very meaningful gift that you can even have personalized, I highly recommend purchasing a hand-painted journal or Bible. Also, they now have beautiful calendars that make the perfect gift too!!
Last year I shared about the prayer box from Rad Joy, which I love SO much. But they also have another favorite of mine which is the Surrender Cross. The idea is that with your surrender cross you write on a small piece of paper what you need to give over to the Lord and you "nail it to the cross". My surrender cross fits perfectly in my prayer box, but I think the Surrender Cross alone makes a beautiful gift for a friend, your family, your child or yourself! You can learn all about it HERE.
I had the privilege of reviewing this Bible HERE and I think this is a fantastic Bible for transitioning kids out of younger Bible story books to an actual verse by verse Bible.
Hands-On Bible NLT (Hardcover)
Tyndale House Publishers, Inc.

This advent book is the perfect addition to your family. As with everything Ann Voskamp writes, it is a stunning way to journey towards Christmas. You can learn more at the link below.
Unwrapping the Greatest Gift: A Family Celebration of Christmas
The Voskamp family has created these beautiful ornaments to put on the tree each day leading up to Christmas to go along with the book Unwrapping the Greatest Gift. I love the handcrafted items they have at Joywares. You can go HERE to learn more and also be sure to check out my very favorite Cradle to Cross Wreath.
I hope this list was helpful to you! Now, what are some of YOUR favorite meaningful gifts? Maybe you have received them or given them… either way shoot me a DM on Insta if you'd like to share!
XO,
Ruth Schwenk
Powered by WPeMatico